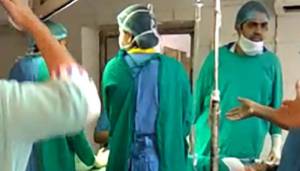 Jodhpur: The Rajasthan High Court has issued a summon asking complete report in the unfortunate incident that took place in a popular state-run hospital when the doctors operating a woman indulged into a fight, leaving a newborn die before them. The case came to light when a video showing the two doctors– Ashok Naniwal and …
Continue reading "Doctors fight as newborn dies | HC issues summon to hospital"
Hardoi: In yet another case of police brutality, a young man was arrested and mercilessly beaten by the police with leather belt on suspicion of a theft case at City Kotawali in Hardoi district of Uttar Pradesh on Wednesdaylast. One of the acquaintances of the arrested youth made a video of the police thrashing from his mobile. …
Continue reading "Police brutality: Policemen caught on camera thrashing youth"